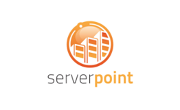 Store RSS
Serverpoint
Founded in 1998, Serverpoint has grown to host many tens of thousands of websites, from small sites on shared servers to large deployments over multiple dedicated servers.  Whatever your current needs, Serverpoint has a solution for you now and in the future as you grow.
Active Coupons
Currently 2 active coupons
35% off Web Hosting at Serverpoint
This 35% discount offer from Serverpoint includes a FREE domain, UNLIMITED disk space and UNLIMITED bandwidth.
Serving you since 1998, Serverpoint is the place to go for reliable web hosting and unparalleled customer service.
65% off VPS Hosting at Serverpoint
For a limited time, Serverpoint is offering an enterprise level server at almost shared hosting prices!  65% off with a MASSIVE 10TB of bandwidth included monthly.
Serverpoint has some of the strongest servers on the market today and with six data centers around the world, a location that best suits you and your customers.
Unreliable Coupons
Currently 0 unreliable coupons
Sorry, no coupons found