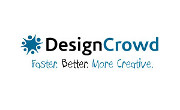 Store RSS
Designcrowd
Get your website design, logo, graphics, Wordpress Template or more created through Crowdsourcing at Designcrowd.com.  Let the best developers compete for your business.
Active Coupons
Currently 3 active coupons
$20 off your next Design Project at Designcrowd with Coupon
Start your next website design project at Designcrowd.com and save $20 with our Coupon Code.  This is a time limited discount so grab it while you can.
Get a FREE Project upgrade at Designcrowd with Coupon
Loving Designcrowd.com but not loving the price?  Use our Coupon Code to get a FREE upgrade to your next project.
50% off Graphic Design at Designcrowd with Coupon
Designcrowd is the largest crowdsourcing platform in the world for all your website design needs.  Save 50% off on any graphic design at Designcrowd.com with our Coupon
Unreliable Coupons
Currently 0 unreliable coupons
Sorry, no coupons found