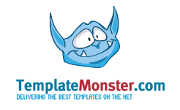 Store RSS
TemplateMonster
TemplateMonster is one of the largest repositories of website templates on the internet today. Over 45000 templates in html, php, wordpress, drupal, Magento, Woocommerce and more.
Active Coupons
Currently 1 active coupon
12% off at Template Monster with coupon code
Get 12% off any website template, WordPress Theme or more at template monster.com with this coupon . Limited time offer.
Click to copy & open site
Unreliable Coupons
Currently 0 unreliable coupons
Sorry, no coupons found