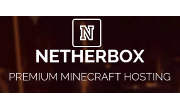 Store RSS
Netherbox
Netherbox is one of the largest Minecraft server hosting companies in the world,  Boasting datacenters in Dallas and Los Angeles.  All servers are built super strong and utilize fast ssd for storage.
Active Coupons
Currently 3 active coupons
Save 15% for LIFE on Minecraft Hosting at Netherbox Promo Code
The best deal that Netherbox.com currently offers.  Get 15% off FOREVER on Minecraft Hosting with this Promo Code.  Coupon Tested Working.
Save 25% on Minecraft Server at Netherbox with Promo Code
Use this Promo Code and save 25% off Minecraft Servers at Netherbox.com.  All Coupons manually tested working.
25% off Minecraft Hosting at Netherbox Promo Code
Get 25% off your first invoice at Netherbox.com on Minecraft Servers with this promo code.
Unreliable Coupons
Currently 0 unreliable coupons
Sorry, no coupons found