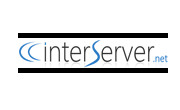 Store RSS
Interserver
We are a premier web hosting provider located in New Jersey. We provide unmatched webhosting services at affordable costs. If you're looking for quality services, reliable equipment, safe and secure datacenters, friendly support staff and high quality customer service, you have come to the right place.
Active Coupons
Currently 5 active coupons
99% off Shared Hosting at Interserver with Coupon Code
You read that right.  OVER 99% off on any shared hosting package at Interserver.net with this Coupon Code.  Interserver never oversells their servers so you are guaranteed a fast, reliable website everytime.
50% off First month at Interserver.net and Windows and Linux VPS
Use this coupon code at Interserver.net and get 50% off your first months service.  Coupon works for any VPS service from Interserver – Linux or Windows.
Get VPS Cloud hosting for just 1 cent per slice
VPS Cloud hosting at interserver.net for just 1 penny per slice for the first month with this coupon
Get domain name for $1.99
Get a domain name from Interserver.net for just $1.99 with any annual subscription
Get first months web hosting for just 1 cent!
Get high quality web hosting from interserver.net for just one cent for the first month with this coupon
Unreliable Coupons
Currently 0 unreliable coupons
Sorry, no coupons found