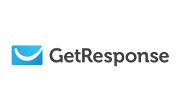 Store RSS
Getresponse
Getresponse is one of the world's leading email marketing and autoresponder platforms.
Active Coupons
Currently 2 active coupons
Get free month at Getresponse
Click this link to get a free month of service at Getresponse . No credit card required.
Get two months free with Getresponse coupon
Use this Getresponse coupon to get 18% off when signing up for an annual account. Click the link for more info and to visit Getresponse.
Unreliable Coupons
Currently 0 unreliable coupons
Sorry, no coupons found