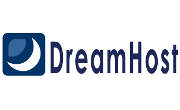 Store RSS
Dreamhost
DreamHost provides domain registration, web hosting and cloud services to 1.5 million sites, blogs and applications, and supports over 400,000 web designers, developers, content creators, small businesses and entrepreneurs with the power of the Open Web.
Active Coupons
Currently 1 active coupon
50% off Web Hosting at Dreamhost PLUS free domain and SSL
Dreamhost is one of the largest independent web hosting companies in the USA today.  Why should you care?  Because they have over 20 years under their belt, serving their customers and growing their business.  And they have never sold out to the big guys – meaning you get the same great service today as always.
Some of the highlights of Dreamhost:
Voted #1 Web Host by PcMag
Free SSL Certificate
WordPress Pre-installed
Unlimited bandwidth and disk space
97 day money back guarantee
Whether you are building a hobby blog or an online business, Dreamhost is a great choice to trust your websites to.
Unreliable Coupons
Currently 0 unreliable coupons
Sorry, no coupons found