CaptainForm Offers Mar 2019
| | |
| --- | --- |
| Total | 3 |
| Reliable | 3 |
| Unreliable | 0 |
| Expired | 0 |
Save 20% OFF CaptainForm Master annual licence with discount code... more ››
Save 20% OFF CaptainForm Hero annual licence with discount code... more ››
Save 20% OFF CaptainForm Apprentice annual licence with discount code... more ››
Expired Coupons
- Sometimes Expired offers still work, give them a try!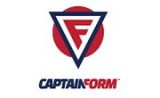 Store RSS
CaptainForm
The story behind it began 8 years ago when 123ContactForm, the mother-company entered the web form builders market. Its 8 years experience was invested in CaptainForm – now, the Superhero of all WP form plugins. CaptainForm is ideal for your projects whether you're a blogger, web developer, designer or a digital agency.
Here at CaptainForm, we're Superheroes with a human side. The courage to launch a new product on a competitive market makes us Superheroes. We're experienced, self-confident and our product deserves to be known. Our human side comes to light when we talk to a customer or keep in touch with the WordPress community. Our team of developers, web designers and marketing specialists do their best everyday to bring value.