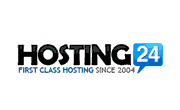 Store RSS
Hosting24
Hosting24.com has been serving tens of thousands of customers since 2004.  With so many years of experience under their belt, Hosting24 has proven they know how to take care of their customers.  They offer Shared Hosting, Reseller Hosting, VPS as well as domain registrations.  Hosting24 offers 24/7/365 Live technical support so you are always covered.
Active Coupons
Currently 5 active coupons
Get shared Web Hosting for $1.99/month at Hosting24 Coupon Code
This Coupon Code will get you any Shared Hosting Package at Hosting24.com for just $1.99/month.  As always, all our coupons and promo codes are manually tested to work.
Save 41% off on Reseller Hosting at Hosting24 Coupon Code
Save 41% off any Reseller Hosting package at Hosting24..com with this manually tested Coupon Code.
Save 42% on Gold Hosting Package at Hosting24 Coupon Code
Use this Coupon Code to save 42% on Gold Hosting Shared Web Hosting package at Hosting24.com .  Coupon tested working
Save 99% on Web Hosting at Hosting24.com Coupon Code
Get your first month's hosting for just one cent – a savings of over 99% at Hosting24.com with our Coupon Code.  All our coupons are manually tested and verified working
Save 69% on Web Hosting at Hosting24 with Coupon Code
This Coupon Code will save you up to 69% on Shared Web Hosting or Reseller Hosting at Hosting24.com.  All Coupons are manually tested and verified working
Unreliable Coupons
Currently 0 unreliable coupons
Sorry, no coupons found